About Us
---
We are thrilled that you have taken the time to visit our website. We will strive to provide you with the best possible customer service and products. Our selection of products is second to none, and we boast some of the most loyal, satisfied customers in the industry.
One reason for this high level of customer satisfaction is that we understand the needs and concerns of our customers. Klubertanz Equipment Co., Inc. is a second-generation, family owned and operated business. Earl and Delores Klubertanz, who founded the company in 1956, raised and sold rabbits as breeding stock, pets, and other markets for over 40 years. Their New Zealand White rabbits were nationally known as high-quality breeding stock for many years. They are founding members of the Badger Rabbit Breeders Association, one of the most successful local clubs in the country. Their contributions to the rabbit industry have been recognized by the American Rabbit Breeders Association, the Wisconsin Rabbit Breeders Association, 4-H, and other groups. Through first-hand experience, they gained expertise about the care, showing, and marketing of livestock and have been sharing their knowledge ever since.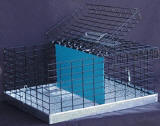 And it is this expertise that makes our products second to none. Our carriers, for example, are the standard for durability and craftsmanship in the industry, and are our own unique design. Just look for the Klubertanz label, and you will see our carriers throughout the United States. Each carrier is hand-built today, much the way it would have been made 30 to 40 years ago. It is a thrill for us to go to shows and see rabbits comfortably and safely transported in carriers we made decades ago. That is just one example of many unique Klubertanz designs.
Although our roots are in the rabbit industry, for over twenty years we have been serving a wide variety of other small-animal industries, including other fur-bearing animals, pets, mice, rats, sugar gliders, caged birds, and fowl. We serve all customers with the same, dedicated customer service and inventory of high-quality products.
Richard Klubertanz, President of Klubertanz Equipment Co., Inc., and son of Earl and Delores, continues the company commitment to customer service. Need help designing an automatic watering system? Just ask. Need a custom-build cage? We can build just about any cage you need. If you are looking for the most complete selection of equipment and supplies, we promise to do everything we can to make you a fully satisfied customer.
---
Business Hours
On-Site Store: Monday thru Friday 8 am - 5 pm (Central Time Zone). Not always can we have someone here on Saturdays, to service the needs of our drive-in customers. As a result, appointments are required on Saturdays for drive-in customers and order pickups. Telephones usually are answered on Saturday mornings.
Telephone Customer Service: Call 608-884-9481 or toll-free at 800-237-3899 Monday thru Friday 8 am - 5:30 pm (Central Time Zone)
---
ON-SITE STORE LOCATION
We are easy to find, and you are welcomed to visit our on-site store. We are in scenic southern Wisconsin, just a few hours from Chicago and Milwaukee, and south of Madison. Hospitality and community are ways of life here, so perhaps you can come and enjoy our corner of the world. Click on the map below to get directions.

| | |
| --- | --- |
| Location | Mileage to Klubertanz Equipment Company, Inc. |
| Intersection of WI Rd. 73 & I-94 | 13.9 mi south |
| Intersection of WI Rd. 73 & US Hwys 12/18 | 7.9 mi south |
| Intersection of WI Rd. 73 & WI Rd. 106 | 2.0 mi north |
| Intersection of WI Rd. 73 & I-90 / I-39 | 2.7 mi north |
---
Back to Main Page